Darartu Doto's Booyah Bash Speech 2018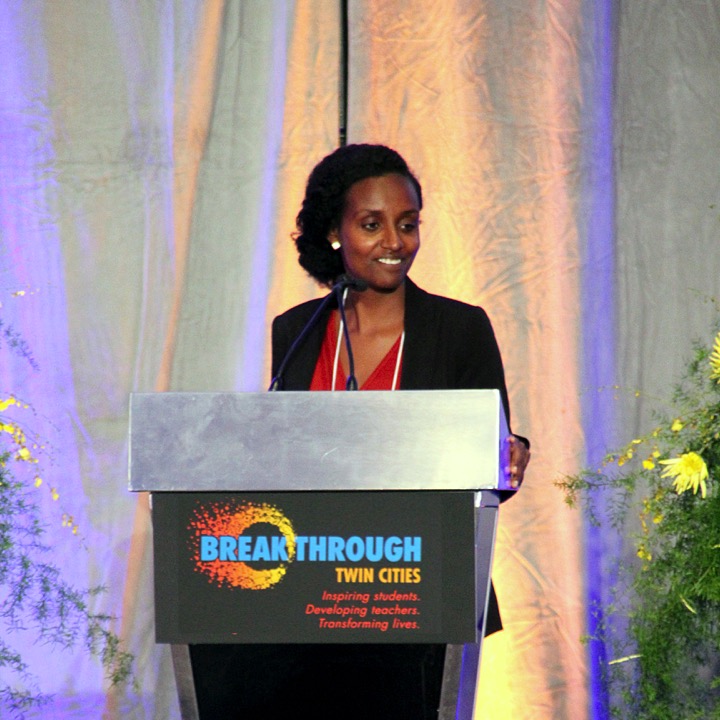 During my senior year of high school in 2014, I was on this stage, speaking to you. I ended that speech with a statement that I truly still believe. In that speech, I said, "I moved to America 8 years ago from Ethiopia speaking absolutely no English. Here I am today, speaking in front of all of you as a Gates Scholar and a future Pomona College graduate. I don't think you need any more proof that Breakthrough is the best program in the world. I love Breakthrough with all my heart and hope to someday come back and work for them to teach more students like me." Re-reading the speech, I couldn't believe I was that wise 4 years ago.
Since then, my life has continued to blossom in expected and unexpected ways. I'm actually graduating from Pomona College in a week. While there, I led the first ever black alternative spring break for 18 Pomona students. The program still continues today. I've mentored students on financial literacy and have also helped incoming black freshmen accommodate to Pomona. After my sophomore year, I got an internship with Facebook, did well, and was invited back the following summer. I guess they really liked me because I will be working for Facebook starting this fall. In addition, I planned a very successful fundraising event for hurricane relief and raised over $4,000 from student donations. Also, I received a grant to do a project on menstrual education for women in Ethiopia, so I will be doing that this summer. Pretty amazing, right? However, I credit most of my success to Breakthrough. I really do and I'm not just saying that because I am up here. Breakthrough helped me with all of these accomplishments. Everything started because of Breakthrough. I learned about my capabilities and my intelligence because of Breakthrough. Breakthrough instilled in me the value of working hard, going after my passion, being excited about learning, and reaching out to my network whenever I needed help. I'll forever be grateful. That's why I flew across the country to come give this speech right before finals.
But guess what? I am not here to talk about my accomplishments. I want my speech to be about failure and hardship because it has been my failures and hardships that have led me to those accomplishments.
I failed my first test ever in college. This may not seem like a big deal, but it felt like my world had ended when I failed not one but multiple tests during my time at Pomona. I thought everything I had worked so hard for was going to waste. The math classes did not make any sense to me and it felt like everyone around me knew exactly what was going on. And they did. Which frustrated me even more. I struggled being an Economics major because I initially did not understand half the things the professor was saying. Whenever the professor would ask, "So what are your questions?" in my head, I was always thinking, "Umm everything?" "Hmm I'm so confused, I don't even know what my questions are." I was lost and I felt scared to ask questions in a classroom where sometimes I was the only black woman.
What took me awhile to understand about academics at Pomona or any college is that it was different from high school and extremely challenging. Students also come in at different levels, and comparing myself to how fast my classmates understood the material wasn't getting me anywhere. After I realized that doing nothing and complaining was probably going to actually ensure failure, I started taking action. I did exactly what Breakthrough taught me as a 7th grader: I asked for help.
I went to office hours and told my professors I was confused. I literally walked in and told them, "Yeah, I'm going to fail your class because I don't understand anything." I discovered that professors want to help and I can't say that enough.
I found a quantitative skills center that tutors students for free and did all my homework with another student who had already taken the class.
I found a study group with other students to get started on my homework and bounce off ideas. Sometimes your friends are in class with you which makes it easier to find study groups but sometimes they're not so you have to step out of your comfort zone and meet new people
Because academics are going to be hard in college, don't sit and complain when that happens. Take action because there are resources available for you. You just have to seek them out because no one is going to come and say, "Oh you look confused, let me help you." I learned to be honest with myself about my confusions and hardships. I stopped blaming people for my own failures and took action. The key lesson here is that I didn't wait for someone else to help me, I learned to be my own self advocate. As you go into college and life, be your own self advocate. Speak up and speak loud.
Academic failures are just one example. There were social failures where I struggled to find balance between doing fun things with friends and doing my homework . There were emotional failures where I struggled to find my inner peace. There were physical failures where I was sick for a whole year and couldn't find the right care because no doctor knew what was wrong with me. I honestly could go on for a long time about my failures but in all those instances where I did fail, I was honest and owned up to the problem. I also developed the courage to ask for help so that I could find others to work with me.
Seniors, you will fail and you will face hardships in college. Multiple times. Life will get really difficult. And sometimes you'll question if you really belong there or deserve to be there. And the answer is, "Yes you do." And you will finish college. You will learn through failures and hardships because when you fail, you learn — and you think critically about how to overcome those failures and hardships in the future.
I'm going to end with these affirmations. I've been reciting certain statements to myself in the mirror and it always makes me feel better. I want you to look at yourself every day and I want you to say or think these statements whenever you question yourself. I would like everyone to repeat after me:
I am worthy.
I am enough.
I am smart.
I deserve to be here.
I am deserving of all good things coming my way.
I will graduate.
As I mentioned before, none of my learning to cope with failure would have been possible without Breakthrough. Since 7th grade, Breakthrough has baked into me the values of communication, striving to understand, relishing hard-work together, being grateful, being curious, living the growth mindset and persisting. With hard-work, teamwork, curiosity, perseverance, and gratitude, all the qualities that Breakthrough teaches us, we can overcome any failure in college and beyond.
Thank you all for supporting this transformative program!